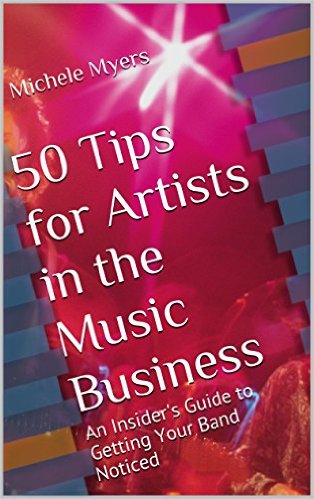 Hundreds of emails come in every year from musicians who want a chance on the radio.
Since I ended up giving the same advice over and over, I wrote a book!
You can find advice here on how to submit your music for radio.
Want to improve your music, look and overall experience as a musician? This short e-book cuts right to the chase, and presents the information in the form of steps you can take to positively effect your career. As a radio DJ and musician, I feel I have a unique view that includes both sides of the industry.
Three 5-star reviews from readers!
Available on Kindle and Kindle IPhone apps here.
Michele Myers has been a radio DJ and producer at stations: KEXP in Seattle, WNYE in New York City and KALX at University of California, Berkeley. She currently hosts and chooses the music for a weekly radio dance party Friday nights at 9pm-midnight on KEXP in Seattle. Michele pumps out a bold mix of music styles: rock, soul, beats and more.
A party music DJ, Michele's performed at: Seattle Space Needle on New Year's Eve, Experience Music Project, Seattle Art Museum, Bumbershoot, Chihuly Garden and Glass, Olympic Sculpture Park, Doe Bay Festival, multiple other venues and select private events.
Michele's audio creations at KEXP were the subject of a documentary on CWTV. As a music expert she's been interviewed for The New York Times and Rolling Stone Magazine. With a team of incredibly invested volunteers, Michele was line producer, voice, writer and programmer for over 200 radio stories on musical subjects for KEXP Documentaries.
You can find Michele's radio stories featured by The University of Washington, The Smithsonian Institute, The Frye Museum, Experience Music Project and National Public Radio.