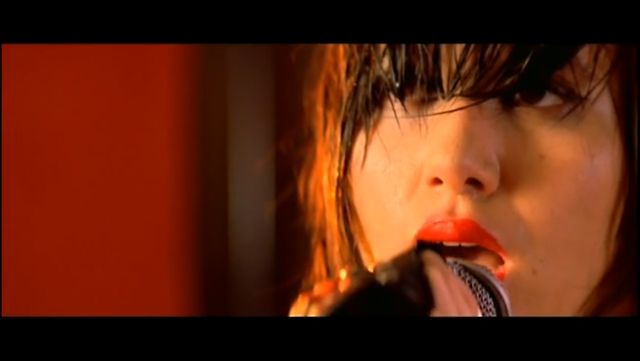 "I Want You Around" is an acoustic love song from quintessential punk band The Ramones.
The Ramones were definitive in punk because they included pop song construction. The songs were raw and personal. Many were memorable enough to hum the whole day after just one listen.
From the tongue-in-cheek film Rock and Roll High School, this vid has cameos of all the band members. With Marky Ramone on the drum set, Joey as the "dreamy" lead singer, the ever-serious Johnny on guitar. The muppet-like Dee Dee is behind the shower curtain.
You know if it comes true I'll be so good to you
[youtube=http://youtu.be/vmNerf4kea4]
M. Ward's "Undertaker" shines through it's dark images.
A poetic masterpiece,  played here on light blue vinyl.
Oh, love is so good
When you're treated like you should be
The sky goes on forever in a symphony of song
[youtube=http://youtu.be/ZfYPqebOnB8]
The Yeah Yeah Yeahs track "Maps" is one of many rock propulsion rides on the 2003 record Fever to Tell.
Lead singer Karen O lays down this stunning acoustic version.
Wait, they don't love you like I love you.
[youtube=http://youtu.be/0DTb9MH3-Wo]
Read these Soulful Alternative write-ups on the best songs and histories of Yeah Yeah Yeahs and The Ramones.
Tune in to DJ Michele Myers Friday nights at 9pm on KEXP 90.3FM Seattle, kexp.org. Music historian and producer, Michele's made over 200 radio stories for KEXP Documentaries. She's also written scripts, lesson plans and features forThe Smithsonian, Experience Music Project, the University of Washington and NPR.