There are some musicians who keep you from feeling alone in the universe. David Bowie is one of those.

Bowie's voice and majestic stage presence earned him the name the Thin White Duke.

He's songwriting royalty. So many of his songs have brilliant hooks and poetic rhythm. Just listen to the lyrics to "Rock 'N' Roll Suicide."

Oh no love! you're not alone
You're watching yourself but you're too unfair
You got your head all tangled up but if I could only
Make you care
Oh no love! you're not alone
No matter what or who you've seen
No matter when or where you've been
All the knives seem to lacerate your brain
I've had my share, I'll help you with the pain
You're not alone
[youtube=http://youtu.be/YnoyiVZUxUk]

Born David Jones in 1947 in Brixton, London, Bowie started on the saxophone at age 13.
Three years later he was playing in local mod bands. In 1966 he took the name David Bowie because his given name was being used by the Monkees' Davy Jones.
In 1969 the first full-length Man of Words, Man of Music came out. It included "Space Oddity," one of rock's greatest ballads.
David Bowie's landmark rock record The Rise and Fall of Ziggy Stardust and the Spiders from Mars made him a global phenomenon in 1972.
Bowie's androgynous stage style and echoing pop songs redefined glam rock. This full-length is still his greatest masterpiece.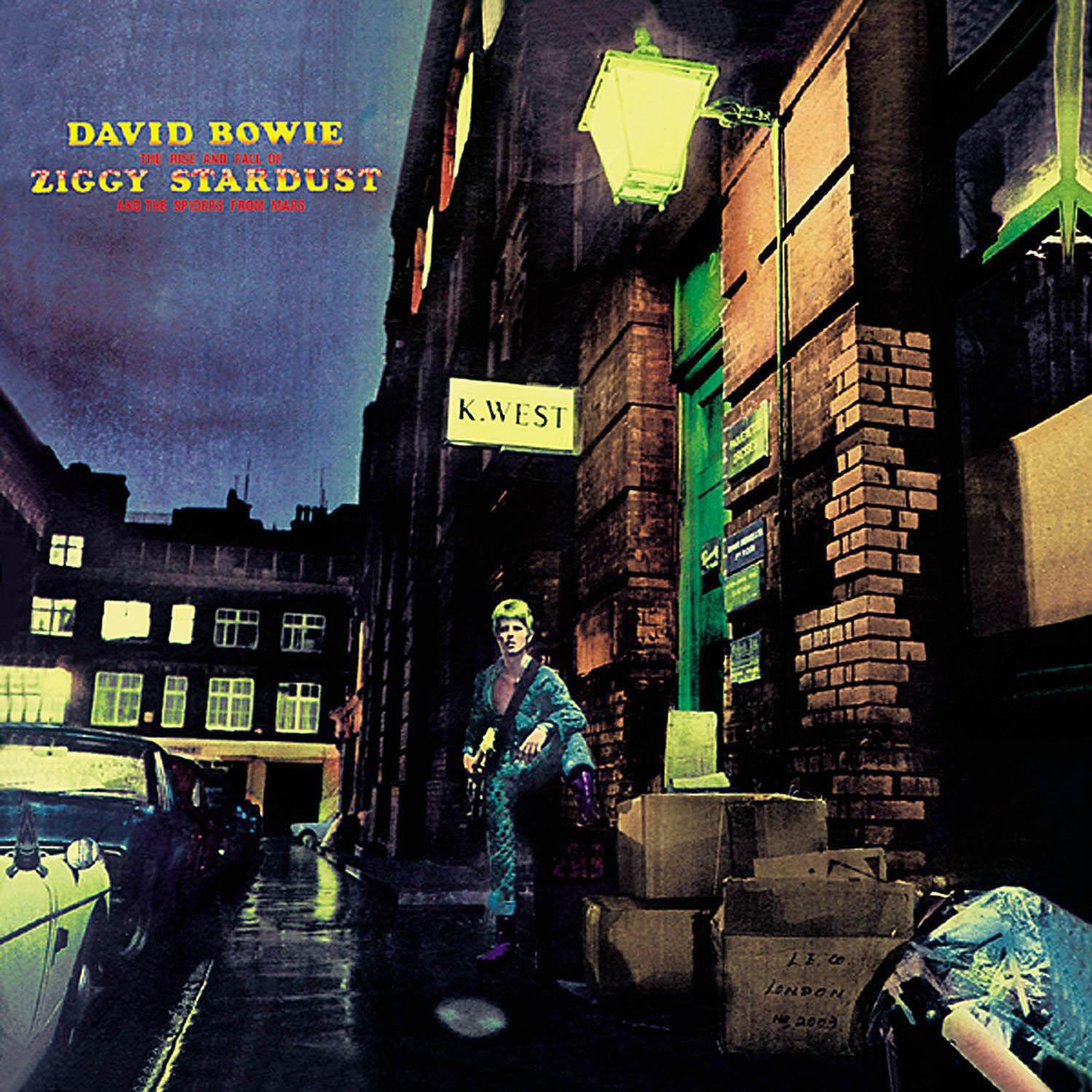 An art student by nature, Bowie recognized the cult of the rock star when he decided to create a character called "Ziggy Stardust."
Ziggy is a glamorous concert guru from another planet.
The corresponding movie has him in outfits not far from what Space Cher would wear.
A male-female vision in white knee-high boots. Ziggy and his music resonated with the U.S. fans and made Bowie an international sensation.
[youtube=http://youtu.be/EypGbDuGrrI]
In 1976 Bowie released Station to Station. A fine record in its own right.
At the end of the 70s he moved to Berlin and worked with Brian Eno on a series of records where they experimented with electronic music. Our team at KEXP Documentaries produced a KEXP Documentary on Bowie for the series Pop Goes Electronic.
"Heroes" was a song written by Bowie after he relocated to Germany. He saw a couple in love meeting up next to the Berlin Wall.
 "I thought, of all the places to meet in Berlin,
why pick a bench underneath a guard turret on the Wall?" – Bowie
[youtube=http://youtu.be/Tgcc5V9Hu3g]
David Bowie has released a stunning amount of pop, rock and electronic work.
He's influenced great electronic and rock acts: Radiohead, the Pixies, Moby, Bauhaus, Bloc Party, Iggy Pop and the Cure.
Other amazing songs from the Thin White Duke are: "Queen Bitch", "Be My Wife", "Fashion", "Fame", "Golden Years", "Suffragette City", "Modern Love" and "Quicksand."
He's starred in many movies including The Hunger and Labyrinth.  His magnetism on film makes it hard to take your eyes off of him.
In 2013 he appeared in the opening ceremony for the Olympics in London and is getting a plaque dedicated to him in the city of Westminster for the 40th anniversary of Ziggy Stardust.
David Bowie's 2013 release The Next Day had one of Bowie's best song in years "The Stars Are Out Tonight."
Find tickets and the latest news at David Bowie's official site.
Tune in to DJ Michele Myers Friday nights at 9pm on KEXP 90.3FM Seattle, kexp.org. Music historian and producer, Michele's made over 200 radio stories for KEXP Documentaries. Michele spins live party music at private and public events and has been the headline DJ at KEXP's New Year's Eve party at Seattle Space Needle two years running. She's written scripts, lesson plans and features for The Smithsonian, Experience Music Project, the University of Washington and NPR.