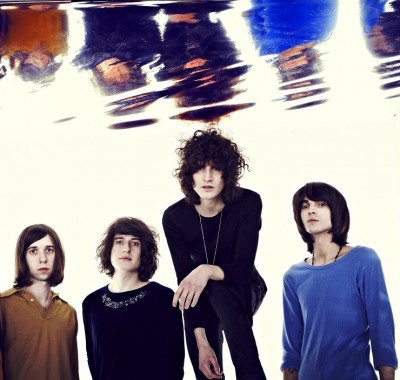 Stepping into the colored psychedelic light, UK band Temples are tuned in.
You can hear the influence of 60s psychedelic rock innovators the Byrds and the Beatles in the band's first full-length Sun Structures.
There's a different texture in Temples' music that you'd never find in landmark vintage bands. A closeness in sound never technologically possible during the British Invasion.
In November of 2012 James Bagshaw, who had some strong skills on vocals and guitar, formed a duo with bass player Tom Warmsley.
Their first single "Shelter Song" dropped soon after.
[youtube=http://youtu.be/vs4i41cOv0s]
The track earned Temples a label contract with Heavenly, gigs with some touring big bands, and an opening slot for the Rolling Stones. The duo added Adam Smith on the keys and Sam Toms on drums.
Now based in Kettering, England, Temples as a band sports a look inspired by the 60s, with modern elements of lushness and contemporary functionality.  They are dynamic onstage,
Temples seem to pull inspiration from legendary 60s band Marc Bolan and T Rex in this video for the song "Keep In The Dark."  Adding, as always, their own twists to the light.
[youtube=http://youtu.be/99U9-zRHXf0]
Click on the album cover below to get Temples new full-length or visit their official site.
Tune in to DJ Michele Myers Friday nights at 9pm on KEXP 90.3FM Seattle, kexp.org. Music historian and producer, Michele's made over 200 radio stories for KEXP Documentaries. She's also written scripts, lesson plans and features forThe Smithsonian, Experience Music Project, the University of Washington and NPR.